Sonata Islands Kommandoh – Zeuhl Jazz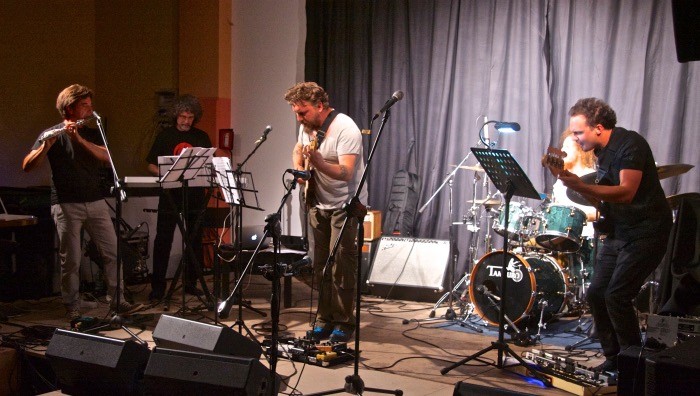 Data: 
Dom

. 

03

 

giugno

 

2018



Dove: 
Parco delle Feste, Lagolo (Tn)
Concerto con: Emilio Galante, flauto / Giovanni Venosta, tastiere / Alberto Turra, chitarra / William Nicastro, basso / Sergio Quagliarella, batteria.

L'ensemble, attivo in questa formazione da cinque anni, presenta la nuova uscita discografica "Zeuhl Jazz" edita negli USA dalla casa newyorkese Chant Records ed in Italia, solo in vinile, dalla storica ADN.
Si tratta di una rivisitazione delle musiche dei Magma, gruppo culto francese , al fianco dei quali Sonata Islands Kommandoh ha suonato due anni fa nel RIO Festival di Albi (Francia).
La musica dei Magma è una delle più intense invenzioni stilistiche degli anni 70, in bilico fra jazz-rock, rock progressivo, funky, il tutto ispirato da John Coltrane, Strawinsky e Carl Orff. Una ricetta estremamente originale degna di una creatività assolutamente fuori dal comune.
La reinvenzione dei Sonata Islands comprende musiche originali nate da una forte ispirazione creativa, oltre a tre stralunate cover di Sohia, Mekanïk Destruktïw Kommandoh (dal quale nasce il nome-omaggio dell'ensemble…) e De Futura.
Crushsite.it
Sonata Islands is a cultural association, born from an idea of Emilio Galante, that promotes and performs new music and jazz. They organized many concerts and festivals in Italy. After Sonata Islands goes RIO (dedicated to the music of Univers Zero, Fred Frith and Thinking Plague) and Nippon Eldorado Kabarett (with the same musicians, dedicated to Japanese RIO music of the '80s with pieces by After Dinner, Wha Ha Ha, Kiyohiko Semba and Haniwa All Stars), here they pay homage to the mythical Christian Vander and Magma.
Emilio Galante composed two tracks of the album and plays flute, electronics. The other musicians involved are Giovanni Venosta who is a versatile musician and composer on keyboards (he is a super magma fan), Sergio Quagliarella who had the hard task to play drums, William Nicastro who is a great bass player and Alberto N.A. Turra who plays guitar and also composed two tracks of the album. The only original Magma piece of the album is Sohia (Kobaia) composed by Teddy Lasry who played flute and saxophone in the first Magma line ups. The album is completely instrumental except No More Zombies featuring the voice of Giovanni Venosta. They go through many "magmatic karmas" never loosing their personal approach. A must have for every Magma fan. The Cover with a true mega insect will attract all the vinyl lovers.
Here is their presentation of the record: "Our project is dedicated to the spirit of Magma's music. This mythical French band, under the direction of its founder Christian Vander, starting from 1970 offered the listener a "celestial" ("zeuhl" in Kobaïan language) music, even though those skies might have been crystal clear or ominously dark. Each of our pieces tries to reflect this approach in composing and playing, with references to progressive avant-rock, modal jazz, R&B and eastern folk music."
Soundohm
On Bandcamp: There is No Prog, Only Zeuhl: A Guide to One of Rock's Most Imaginative Subgenres
These Italians make no bones about where their allegiances lie, from the on-the-nose album title to the Magma-worshipping name of the opening cut, "Offering Vander." The avowed mission of their 2018 album, in case the title was too subtle, is to crossbreed zeuhl with jazz. In theory this might seem a bit like carrying coals to Kobaiia, since jazz was a key component of Christian Vander's original conception anyhow. But in practice, it brings the style someplace new and surprising. If Pat Metheny made a zeuhl album it might sound something like this, with the style's sharp angles and visceral attack diverted down a gentler path that still allows for plenty of archness and a few fiery moments.
By Jim Allen · October 05, 2020