Capricorni Pneumatici – The Erivar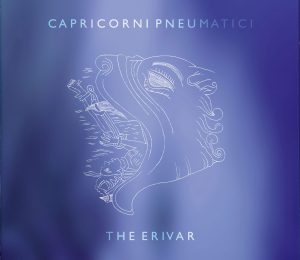 Tra le pagine semiclandestine dello sperimentalismo italiano più estremo, andrebbe ricordata la scena industrial, al cui interno spicca il misconosciuto duo milanese dei Capricorni Pneumatici. Attivi sin dal 1987 – ignoti al punto che non è nemmeno dato conoscere i loro veri nomi – hanno rappresentato un'esperienza originalissima di industrial esoterico, di elettronica contaminata dall'occultismo, di incubi cosmici rarefatti, di messe nere disegnate da geometrie minimali e citazioni di musica concreta.
Devono il loro nome all'esoterista, astrologo e occultista britannico Aleister Crowley (1875-1947), personaggio influente e ambiguo – definito dalla stampa inglese dei primi del 900 come "l'uomo più cattivo del mondo" – capace di affascinare e suggestionare, dopo la sua morte, buona parte della cultura pop. I Current 93 e i Coil – tra gli esponenti principali dell'industrial esoterico e maggiori influenze dei Capricorni Pneumatici – sono esplicitamente influenzati dal guru britannico; ma anche gruppi ben più noti e insospettabili ne hanno subito il fascino sinistro: i Beatles lo inseriscono nella leggendaria copertina di "Sgt Pepper's Lonely Hearts Club Band", Ozzy Osbourne gli dedica il brano "Mr. Crowley" nell'album "Blizzard Of Ozz" (1980), i Led Zeppelin lo citano molto spesso e nel loro terzo album inseriscono due sue frasi nel retro di copertina.
Dopo un breve periodo di grande attività tra il 1987 e il 1991, i Capricorni Pneumatici tornano nel 2016 col nuovo "The Erivar" mostrando un'inquietante capacità visionaria non dissimile dagli esordi, una tessitura industrial spesso macabra ("Inside Mother") e reiterata ("You Are Four And Magic"), venti elettronici dalle venature horror ("Ohyf"), oscuri paesaggi dark-ambient ("The Erivar") fino a giungere al fondo dell'abisso nei due brani finali – "Ord Traditori" e "Cyngus Olor" – sorta di invocazioni demoniache, registrazioni di veri sabba di streghe nel preludio di un evento sacrificale.
I Capricorni Pneumatici con "The Erivar" proseguono la loro avventura mostrando quanto possa essere potente e visionario il versante più clandestino e meno noto della scena industrial italiana.
Valerio D'Onofrio – OndaRock, Recensioni, 2016
Tra i protagonisti più credibili del filone "esoterico" della scena post-industrial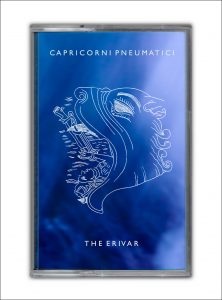 italiana, i misteriosi CP, duo che si cela sotto i nikname di Pazuzu e Soda Caustica, hanno prodotto tra il 1987 e il '91 una decina di cassette, spesso accompagnate da accurati libretti con testi di matrice crowleyana. Eclissatisi dai circuiti sotterranei per un quarto di secolo, la sigla è riapparsa nel 2015 con una cassetta ADN, The Erivar,  che non meritava di restare confinata in una edizione di sole 50 copie. Opportuna dunque la celere ristampa su cd, che in  otto diversificate sezioni – un paio impreziosite dall'editing affidato al grande Z'EV – ci permette di appurare come i Capricorni Pneumatici abbiano continuato ad affinare nell'ombra la loro cupa ambient ritualistica (vedi Ode to Fortum e la lunga title track) senza tralasciare potenti e austere tracce per chitarre trattate ed eletronica (Mon Fordon) o dense texture di stampo più industrial (Ohyf) nonchè pagine intessute di magiche invocazioni e climi da messa nera (Ord Traditori, Cyngus Olor). L'album è solo la prima parte di una trilogia che si completerà nel 2017, a trent'anni dalla nascita del progetto.
Vittore Baroni – Blow Up, Novembre 2016
Back in the day, mid to late 80s, I was quickly cured from anything even vaguely ritualistic or all that came with the name Aleister Crowley attached, so that's were I missed out on this Italian duo, whose name comes from Crowley's book '"Liber A'ASH vel Capricorni Pneumatici SUB FIGURA CCCLXX".
They are only known by their pseudonyms Pazuzu and Soda Caustica, but I didn't expect otherwise.
A bit more research learned me they had a bunch of cassettes releases in the 80s, on a label called 666 Production, but also on SSS and Minus Habens and in 2016 there was this CD (isn't it 2017 by now? Anyway…) of six pieces recorded in 2014 and two in 2009, the latter that they did with Z'EV.
Apparently their set-up was mostly acoustic in the past, 'PVC tubes, air compressors, hammers, buckets, water, steel and aluminium tanks and plates, various metal and plastic objects' yet on this CD also percussions, voice, harp guitar, ac. guitar, treatments and processing, electronics and field recordings. There is no ritual chanting here, which is always good in my book, but some fine atmospheric music of long form drone like sounds, whether these are acoustic in origin or processed versions. Actually I thought all of this was quite enjoyable throughout. Close your eyes, and there are no sigils, no burning crosses or incense, no liber all, just highly enjoyable experimental music
based on loops, sounds, and with the right amount of reverb and delay (and no doubt more of those) all highly atmospheric; creepy and dark. Maybe this can also be the sound of a fine horror movie I thought. I am not sure this would make me rush out and hear their entire recorded output, but this one is surely the fine soundtrack to a grey November afternoon.
Frans De Waard – Vital Weekly
Historically, Italy is home to not only a large number of respected industrial /noise projects, but also wider experimental music in general. One such project is Capricorni Pneumatici, which has been active since 1987. This is a duet of two musicians, hiding under the names of Pazuzu and Soda Caustica. The project plays gloomy music on the verge of ritual ambient, drone and concrete music.
The album was released in 2016 by the Italian label ADN in cooperation with the Russian label Monochrome Vision, in the form of Jewel case CD, as well as on tapes, limited to edition of 50 copies. At the moment you can order this album on the websites of labels.
The cover of the album is made in blue tones. On a blurred blue background is a pale blue medieval picture of a lion's head with open jaws, in which there is a tied man. At the top is the name of the project, done in pale blue with a simple font. At the bottom of the cover is the album's title The Erivar, written in the same font. On the turn of the two-page booklet is depicted a snake-like dragon, trying to swallow a human-like caudate creature, which is in some sort of cocoon or ellipse. The drawing is also made in medieval style. On the back of the booklet is a list of songs and various other information. The back part duplicates the last page of the booklet.
The album consists of eight tracks of different duration. The total time of the album is just under an hour. It is worth noting that tracks three and seven, have participation from one of the more famous names with experimental scene Z'EV, who recently left this world…. Of course, I was interested in these two tracks, but about those a little bit later.
So, the album begins with the almost five-minute composition "Inside Mother". Atmospheric pulsating metal Drones are supported by a long lingering vocal and rare ritual blows … A Very interesting atmospheric beginning of the album.
Next is the track "The Erivar", which is the longest track here – just under twelve minutes. The tracks constructed around creaking of bass strings, a distant low hum, a metallic grinding noise and a rumbling sound like a low-tuned cello or double bass create an eerie and disturbing atmosphere. Closer to the end, tension builds up, but almost at the very end, everything calms back down.
The third track is called "Ode to Fortum", and it was recorded along with Z'EV, who also did the processing of this track. It is worth noting that the tracks made in co-authorship with Z'EV were recorded in 2009, while the rest of the tracks were made in 2014-2015. Naturally, I expected a big difference in sound. My expectations were justified. The track sounds more raw, it's almost Noise, saturated with delay and reverberation. It is difficult to single out individual sounds, all squeaks, tapping, and drones merge into one background droning noise.
The fourth track, called "You Are Four And Magic", in many respects repeats the string sound of the second track but is more relaxed, and there is also a high male vocals, the manner of which is similar to a spell or mantra.
Then comes the shortest track of the album. Its duration is just over four minutes and it is called "Mon Fordon". We hear reversed rhythmic metal drones, into which, in the course of the composition, a higher hum and a slight rustling and tapping are intertwined. This is the most ambiguous track on the album. It seemed somewhat boring and synthetic.
The sixth track, called "Ohyf", is almost ambient with a touch of Drone. By sound, this track is close to Ode to Fortum, which was made with Z'EV, but not so overloaded by Delay and has a more transparent and rich sound.
The seventh track "Ord Traditori" was also recorded and processed together with Z'EV in 2009. Naturally, I expected to hear a more raw sound, similar to the second track. But I heard a crystal clear sound. It's a dark Dark Ambient with low drones and creaks. There is an ominous voice of an indefinite sex, which very emotionally recites the text unknown to me in French.
The last track is called Cyngus Olor is a kind of Outro. It's pretty simple stringed drone, resembling the sound of Indian tanpura.
The whole album left a very pleasant impression on me, despite the second track that broke out from the general style, as well as a short but somewhat boring fifth track that could have been possible left out. My favorite tracks are "The Erivar" and "Ord Traditori". As a result, we have a good conceptual work in the style of acoustic Drone / Ritual Ambient, which I'm sure I'll listen to again.
Musique Machine