Sonata Islands Kommandoh – Zeuhl Jazz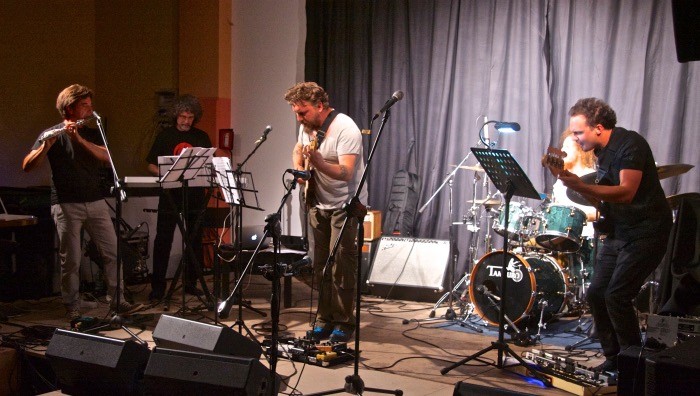 Data: 
Dom

. 

03

 

giugno

 

2018



Dove: 
Parco delle Feste, Lagolo (Tn)
Concerto con: Emilio Galante, flauto / Giovanni Venosta, tastiere / Alberto Turra, chitarra / William Nicastro, basso / Sergio Quagliarella, batteria.

L'ensemble, attivo in questa formazione da cinque anni, presenta la nuova uscita discografica "Zeuhl Jazz" edita negli USA dalla casa newyorkese Chant Records ed in Italia, solo in vinile, dalla storica ADN.
Si tratta di una rivisitazione delle musiche dei Magma, gruppo culto francese , al fianco dei quali Sonata Islands Kommandoh ha suonato due anni fa nel RIO Festival di Albi (Francia).
La musica dei Magma è una delle più intense invenzioni stilistiche degli anni 70, in bilico fra jazz-rock, rock progressivo, funky, il tutto ispirato da John Coltrane, Strawinsky e Carl Orff. Una ricetta estremamente originale degna di una creatività assolutamente fuori dal comune.
La reinvenzione dei Sonata Islands comprende musiche originali nate da una forte ispirazione creativa, oltre a tre stralunate cover di Sohia, Mekanïk Destruktïw Kommandoh (dal quale nasce il nome-omaggio dell'ensemble…) e De Futura.
Crushsite.it
Sonata Islands is a cultural association, born from an idea of Emilio Galante, that promotes and performs new music and jazz. They organized many concerts and festivals in Italy. After Sonata Islands goes RIO (dedicated to the music of Univers Zero, Fred Frith and Thinking Plague) and Nippon Eldorado Kabarett (with the same musicians, dedicated to Japanese RIO music of the '80s with pieces by After Dinner, Wha Ha Ha, Kiyohiko Semba and Haniwa All Stars), here they pay homage to the mythical Christian Vander and Magma.
Emilio Galante composed two tracks of the album and plays flute, electronics. The other musicians involved are Giovanni Venosta who is a versatile musician and composer on keyboards (he is a super magma fan), Sergio Quagliarella who had the hard task to play drums, William Nicastro who is a great bass player and Alberto N.A. Turra who plays guitar and also composed two tracks of the album. The only original Magma piece of the album is Sohia (Kobaia) composed by Teddy Lasry who played flute and saxophone in the first Magma line ups. The album is completely instrumental except No More Zombies featuring the voice of Giovanni Venosta. They go through many "magmatic karmas" never loosing their personal approach. A must have for every Magma fan. The Cover with a true mega insect will attract all the vinyl lovers.
Here is their presentation of the record: "Our project is dedicated to the spirit of Magma's music. This mythical French band, under the direction of its founder Christian Vander, starting from 1970 offered the listener a "celestial" ("zeuhl" in Kobaïan language) music, even though those skies might have been crystal clear or ominously dark. Each of our pieces tries to reflect this approach in composing and playing, with references to progressive avant-rock, modal jazz, R&B and eastern folk music."
Soundohm
After their virtuoso tribute to After Dinner, Wha Ha Ha and the Haniwa Allstars. Giovanni Venosta and Sonata Islands offer a collection of 6 compositions of their own, with references – sometimes strong – to other music, but in their own way and with no concessions to musical fashion – or even genre – although, as the Kommandoh newly tacked to the end of the band name, indicates there are more than echoes of Magma (returning the compliment – back in the '80s Magma used to warm up their audiences with Roberto Musci and Giovanni Venosta's classic Urban and Tribal Protraits). Elements of jazz, film music, and electronic noise here happily cohabit, and overlap, with occasional detours into the Twilight Zone.
ReR Megacorp
Every so often an album comes along that just hits the spot – it might be weird and diverse, but also strangely familiar. Quasar Burning Bright from Sonata Islands Kommandoh fits that bill. Led by Italian flutist and composer, Emilio Galante, the band consists of him along with Giovanni Venosta on keyboards and vocals, Alberto N. A. Turra on guitar, and Stefano Grasso on drums.
The group's name invokes the French band Magma, and there certainly are some Zeuhl elements to be heard. In fact, the previous Sonata Islands Kommandoh release was a jazz take on Magma. But Galante mixes up the influences of Vander and company with electronics, glitch, improvisation, and experimentation. The writing is not overtly complex as much as it is unusual. The rhythmic structure comprises repeating themes that vary in pitch and angularity. Flutes take a leading role over these as well within tracks that are synth-driven and occasionally funky to the point of being almost danceable. There is no shortage of groove.
The album wraps up with a 12-minute piece, It Ain't Necessarily So, that is perhaps the most experimental and Magma-influenced of the bunch. It features a choir, cosmic synths, and spacious orchestration of flute, keys, and drums. It puts a strange and beautiful ending on a compellingly oddball offering.
Mike (Avant Music News)   November 20, 2020
Sonata Islands Kommandoh – Quasar Burning Bright – weird & fantastic fusion from Italy
Sonata Islands Kommandoh is a hyper-eclectic ensemble founded by flutist and composer Emilio Galante in 1998. Switching genres, approaches and even core members with each project, the ensemble explores far-reaching territory from the worlds of jazz, classical, rock, experimental and – especially on their latest album "Quasar Burning Bright" – electronic music. Some of Sonata Islands Kommandoh's ambitious past projects include "Torre Aquila," a multimedia project with soloist Markus Stockhausen, "Sonata Islands goes RIO" with music by avant garde veteran Fred Frith, a jazz rewriting of "Das Lied von der Erde" by Gustav Mahler, and their first release for Chant Records, "Zeuhl Jazz," dedicated to the spirit of legendary French progressive rock band Magma. "Quasar Burning Bright" finds the ensemble in top shape, seamless weaving modal sounds and free jazz with deep-groove funk, a touch of metal and a healthy dose of synthesizers and other electronics. The resulting sound is hinted at by the album's title, the dazzling luminescence of an invisible and far distant star surrounded by both vast space and unexpected explosions.
Burl Veneer (Music)
On Bandcamp: There is No Prog, Only Zeuhl: A Guide to One of Rock's Most Imaginative Subgenres
These Italians make no bones about where their allegiances lie, from the on-the-nose album title to the Magma-worshipping name of the opening cut, "Offering Vander." The avowed mission of their 2018 album, in case the title was too subtle, is to crossbreed zeuhl with jazz. In theory this might seem a bit like carrying coals to Kobaiia, since jazz was a key component of Christian Vander's original conception anyhow. But in practice, it brings the style someplace new and surprising. If Pat Metheny made a zeuhl album it might sound something like this, with the style's sharp angles and visceral attack diverted down a gentler path that still allows for plenty of archness and a few fiery moments.
By Jim Allen · October 05, 2020
De temps en temps, un album arrive et tombe à pic – il peut être bizarre et diversifié, mais aussi étrangement familier. Quasar Burning Bright de Sonata Islands Kommandoh répond à ce besoin. Dirigé par le flûtiste et compositeur italien Emilio Galante, le groupe est composé de lui, Giovanni Venosta aux claviers et au chant, Alberto N. A. Turra à la guitare et Stefano Grasso à la batterie.
Le nom du groupe évoque le groupe français Magma, et il y a certainement des éléments de Zeuhl à entendre. En fait, le précédent album de Sonata Islands Kommandoh était une version jazz de Magma. Mais Galante mélange les influences de Vander et compagnie avec l'électronique, les pépins, l'improvisation et l'expérimentation. En conséquence, l'écriture n'est pas aussi complexe qu'inhabituelle.
La structure rythmique comprend des thèmes répétitifs qui varient en hauteur et en angularité. Les flûtes jouent un rôle prépondérant sur ces thèmes ainsi que sur les morceaux qui sont pilotés par un synthétiseur et parfois funky au point d'être presque dansantes et le groove n'y manquera pas.
L'album se termine par un morceau de 12 minutes, » It Ain't Necessarily So », qui est peut-être le plus expérimental et le plus influencé par le magma de la bande. Il comporte un chœur, des synthés cosmiques et une orchestration spacieuse de flûte, de touches et de batterie. Il se termine sur une étrange et belle offrande de bizarreries.
***1/2
No BS: Just Rock & Roll  21/11/2020